MIDDLESEX COUNTY CONNECT
Thames Centre + Oxford County  + City of London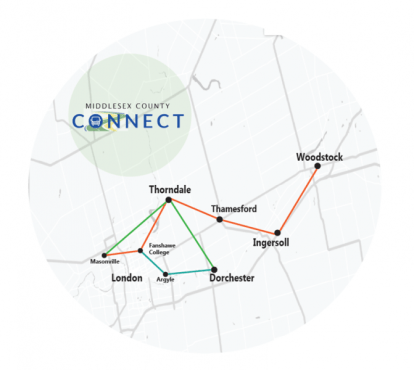 Watch for a glimpse into everything Middlesex County Connect has to offer!
If you are travelling on County Connect, please ensure you wear a face covering, maintain a physical distance when possible, and use the sanitizer available on board.
Service Alerts will be posted here.
***MONDAY August 15, 2022: ROUTE 2 WILL NOT BE OPERATING TODAY DUE TO DRIVER ISSUES. WE APOLOGIZE FOR ANY INCONVENIENCE.***
Use the buttons below to learn more!
*The information on this page is the most recent route, stop location, schedule, and fare structure. This information is subject to change based on user feedback and monitoring rider usage. Please check this page frequently for service updates.*
Exact cash fare is required. Bus drivers do not carry change. Debit, credit, Apple Pay, and Android Pay also accepted.
All one-way rides: $5.00 
Children 5 and under: FREE
Support persons: FREE
Veterans: FREE
EXCITING NEWS - We are now accepting debit, credit, Apple Pay, and Android Pay on-board! Tap OR chip cards are accepted.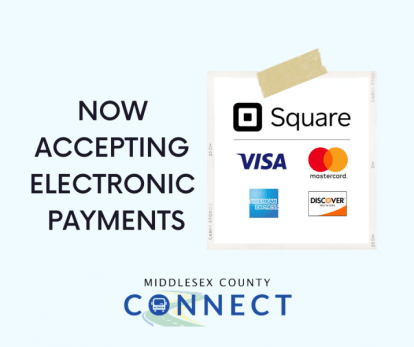 Route 1: Woodstock - Ingersoll - Thamesford - Thorndale - London
Operates Monday to Friday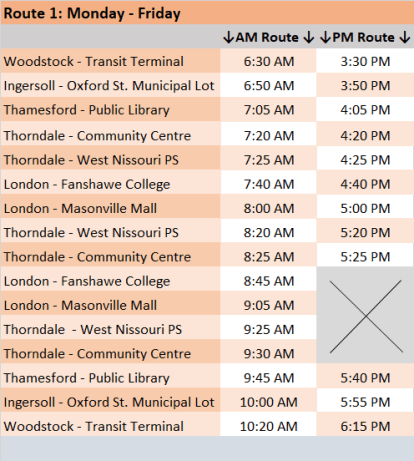 Route 2: Dorchester - London
Operates Monday to Friday
NEW STOP: Nilestown beginning Monday October 4th!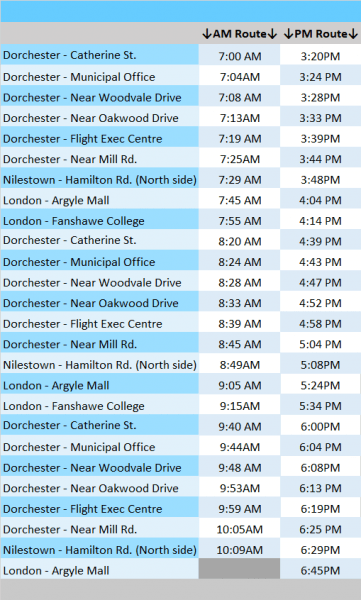 ***Check the route schedule, arrive at the bus stop 5 minutes beforehand and be sure to be in plain view of the Bus Operator.  Have your cash ready. Remember Bus Operators do not make change - exact fare of $5.00 is required.  Use hand rails when entering and exiting the bus and be sure to have all your belongings when entering and exiting the bus.***
Route 3: ON-DEMAND Dorchester - Thorndale - London
Operates SATURDAYS only
Beginning February 5, 2022, Saturdays are going on-demand! 
Our Saturday afternoon route provides direct, on-demand connections between all of our Dorchester, Thorndale, and London stops, any time between 11:00am and 3:00pm. To book your ride, just call 1-888-465-0783, in advance or ASAP!
Travel between these communities for your leisure and shopping needs, grab lunch at a local restaurant, or explore a new area on foot for the day! Let us get you where you want to go, when you want to go!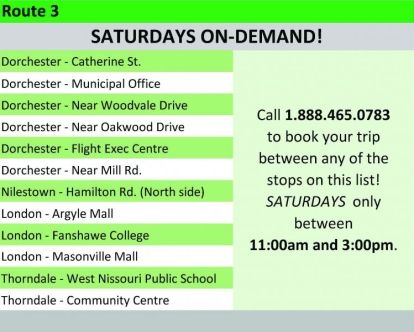 Bus Stop Map and Locations
Use this interactive web map by clicking on your bus stop to see stop descriptions and scheduled times.
To access map images of stop locations for both routes, please see the documents below.
Route 1 Stop Locations: Woodstock, Ingersoll, Thamesford, Thorndale, and London
Route 2 Stop Locations: Dorchester and London 

Are you looking for advertising opportunities for your business? Interested in increasing your brand awareness and outreach? Look no further than Middlesex County Connect. We have a number of advertising options for you to reach local and regional populations, including: 
Bus Shelter Ads
Exterior Bus Ads
Interior Rack Bus Ads
With local bus advertising that literally drives your messaging across a variety of towns and communities, we can help you reach various segments of the population in a powerful way. 
Each advertising solution is influential on its own, but you can amplify your message further with a thoughtfully executed campaign that makes the most of how they can also work together. Explore our various transit advertising solutions by clicking the link below to explore our 2021 Advertising Kit.
Middlesex County Connect Advertising Kit 2021 
If you're interested in advertising your business with Middlesex County Connect, email @email and we will be happy to help you plan your next campaign!
Passenger Guidelines
Middlesex County Connect is committed to a safe and reliable transit experience for all passengers and bus operators. Passengers will be treated with respect in every interaction with bus operators, and can expect that operators will do their best to ensure an efficient and timely arrival to their destination. Passengers will treat bus operators, and other passengers with the same level of respect and courtesy and shall adhere to the guidelines and regulations. These regulations are in place to ensure a respectful and safe experience for all parties. Failure to comply may result in the operator asking the passenger to leave the bus.
For a complete list of passenger guidelines, please see this document.
Accessibility Guidelines 
Middlesex County Connect is committed to eliminating barriers and improving accessibility for persons with disabilities in a manner that respects dignity, independence, integration, and equal opportunity.
Our buses are equipped with an accessible lift on the passenger side of the bus to assist passengers. The lift can be used by passengers with limited mobility or who require a mobility aid which prevents them from boarding at the front of the bus. The lift can be deployed by the bus operator upon request, however, you must be able to maneuver your mobility aid into the designated area on the bus.
The final decision concerning if the mobility aid can be safely loaded onto the bus will be at the discretion of operator.
We welcome people with disabilities and their service animals. People with disabilities are permitted to be accompanied by their service animal and keep that animal with them when accessing the transit service.
It is the responsibility of the person with a disability to ensure that his or her service animal is kept in control at all time and clear of all aisles and exits.
A person with a disability who is accompanied by a support person will be permitted to have that person accompany them while using the transit service. The service is free of charge to support persons accompanying a person with a disability.
Starting Saturday, June 11, 2022, masking will no longer be required in most settings across Ontario, including public transit.
FAQ
For more information and frequently asked questions, please see this document. 
Contact Us:
Cindy Howard
General Manager Finance and Community Services     
County of Middlesex
Jason Keillor
General Manager Transit Operations
Voyago
519-455-4579