We are updating Middlesex County's Official Plan! This is an opportunity for the community and County to work together to develop the goals, objectives, and policies that will manage and direct future physical development. Updates on the process, available resources, and opportunities to participate will all be posted to this webpage.

The Planning Act requires that County Council regularly review its Official Plan. This ensures that policies stay current and reflect our changing community's needs. The Official Plan is updated through public engagement, short- and long-term planning, strategic thinking, consultation with the Planning Advisory Committee, and the creation of key policy directions. The Official Plan update is a multi-year process that will:
> Incorporate new Provincial legislation, regulations, and policies.
> Implement new County policy initiatives and plans.
> Include opportunities for public engagement.
> Guide growth and development over a 25-year period from 2021–2046.
A number of topic areas are being reviewed as part of the current update, including Agriculture, Drinking Source Water, Economic Development, Natural Heritage, and Transportation. Please see the Timeline at the bottom of this page to learn about the project's milestones.
As part of the current Official Plan update, there have been a number of significant studies, strategies, presentations, and planning documents prepared for or initiated by the County that will help to provide direction for future growth and land use planning. These documents include:
> Source Water Protection
> Natural Heritage Systems Study
> Middlesex County's Economic Development Strategy Plan 2021–2025
> Middlesex County's Cycling Strategy
> Middlesex County's Transportation Report
> Middlesex County's Provincial Changes Report
> Review of County Official Plan for Compliance with Provincial Changes
> Middlesex County's Homeless Prevention & Housing Plan 2019–2024
> Population and Housing Projections 2021-2046, Report
> Middlesex County's Strategy Plan 2021–2024

An Official Plan Amendment Draft Working Copy showing potential amendments to the County Official Plan as of September 29, 2021 for the purpose of consultation is now available. This copy includes proposed changes in the format of a 'track changes' document with the following explanation.
Wording within the document that is shown with underline and shading is proposed to be added to the Official Plan.
Wording within the document that is shown with strikethrough and shading is proposed to be deleted from the Official Plan.
Wording within the document that is shown without underline or strikethrough and without shading is existing wording within the approved Official Plan that is proposed to remain.
The proposed changes within the Document reflect the various Background Reports completed and the proposed mapping schedules will soon be posted. It is noted that further and additional proposed changes to the Official Plan may occur and in particular within the Document there are several sections that include a 'Working Copy Notation' (emphasized with yellow shading) concerning policy areas that are subject to further and ongoing review in the short-term.

This process is an exciting opportunity for all members of the community to participate in the development of the County Official Plan. Information regarding public participation opportunities, background studies and research, and the draft Official Plan will be posted to this site as they are developed. 
We know that people living and working in Middlesex are eager to help shape future community growth. We encourage you to comment on project updates, ask questions, and attend a virtual public meeting to share your ideas and feedback. If you wish to submit comments concerning the County Official Plan or the Official Plan update process, please contact a County Planner. 
Please note all submissions will form part of the public record and will be presented to Council with the Recommendation Report. Personal information is collected under the authority of the Planning Act and the Municipal Act. The information collected will be used to complete the Official Plan Amendment process.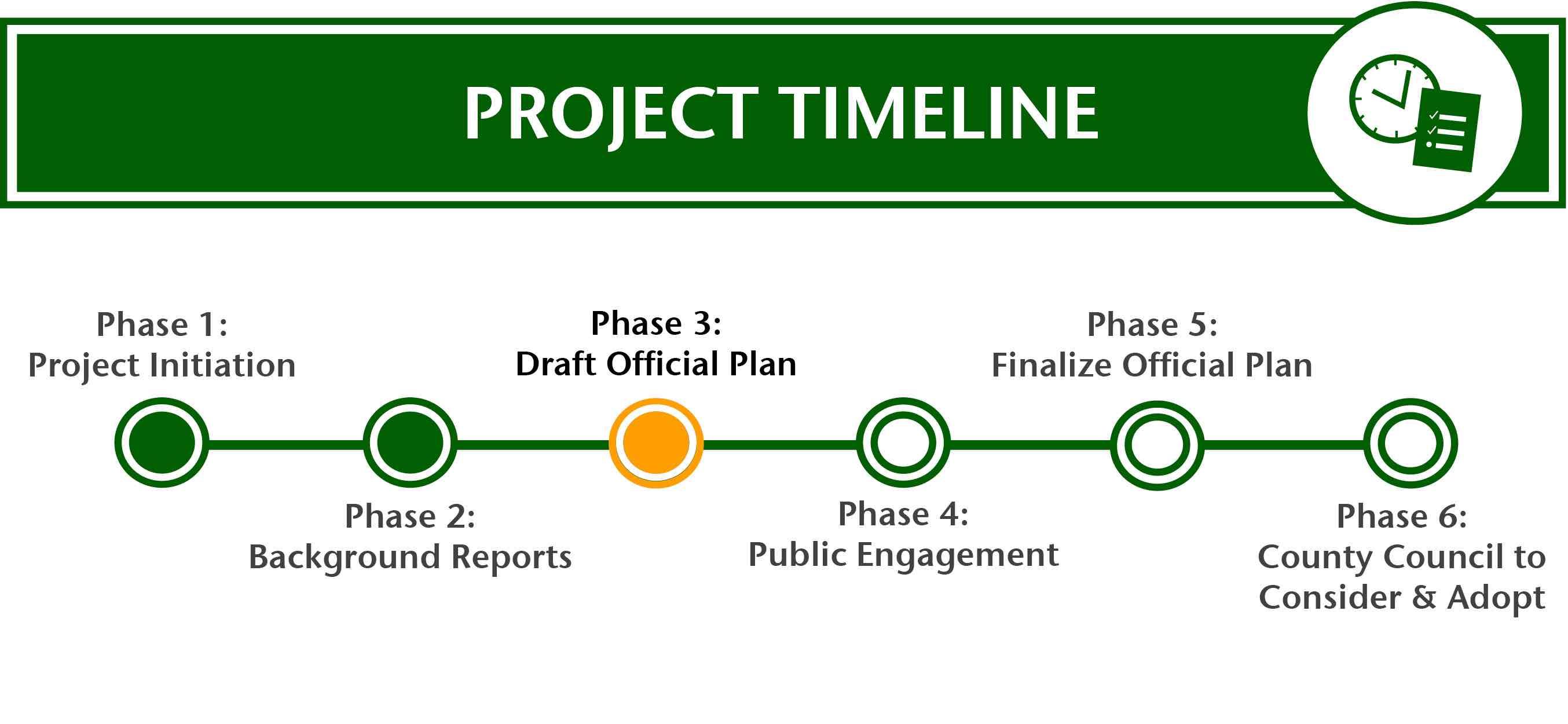 This webpage is intended to supplement the statutory public notice and information requirements under the Planning Act. If you have any questions about the Official Plan update process or any of the information posted to this site, please contact Durk Vanderwerff, Director of Planning using the form below.
Submit a Question or Comment