Posted Date
August 11, 2022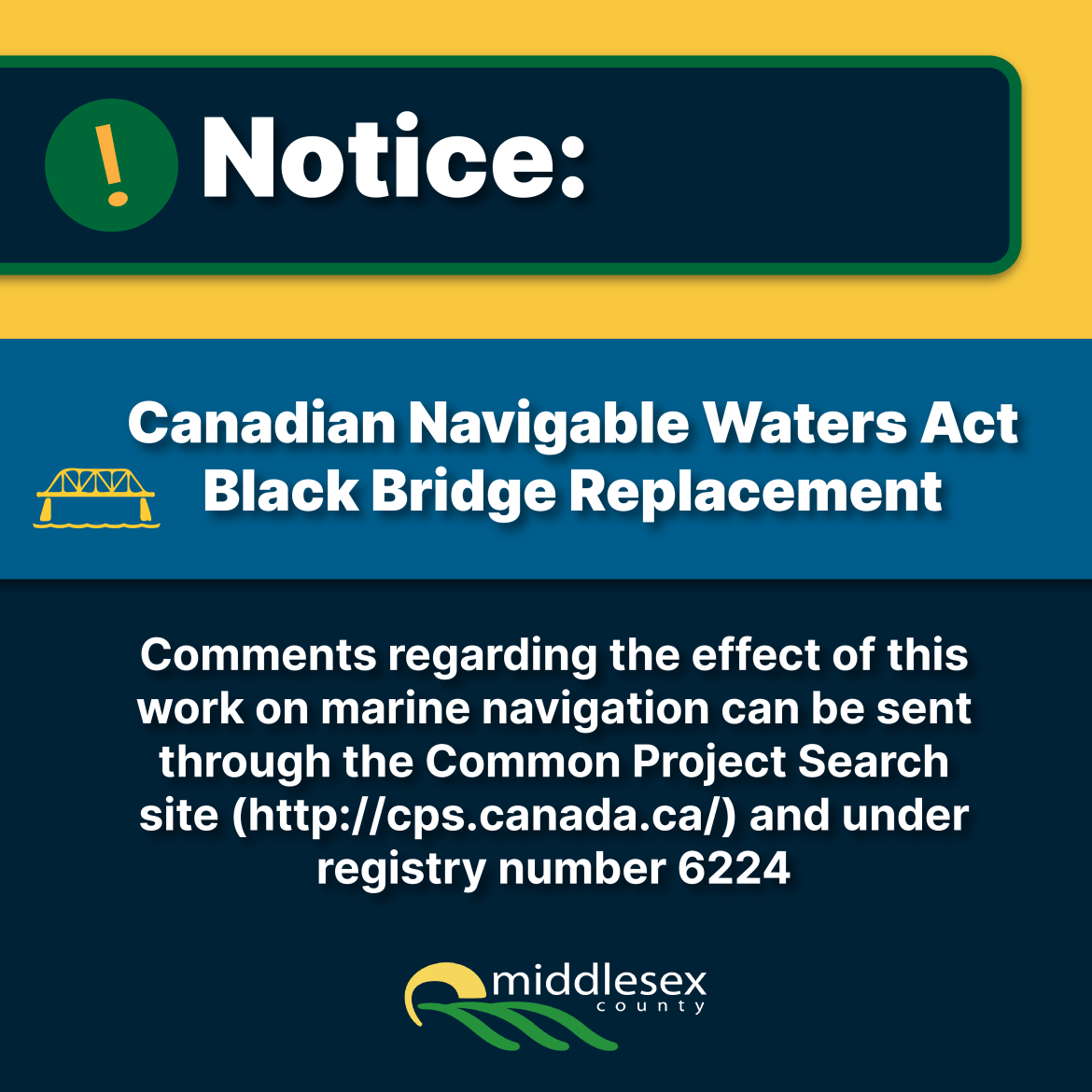 The County of Middlesex hereby gives notice that a submission has been added to the Navigable Waters Registry pursuant to the Canadian Navigable Waters Act for public comment as described herein.

Pursuant to paragraph 10(1)(b) of the said Act, the County of Middlesex has deposited with the Minister of Transport, on the online Common Project Search Registry (http://cps.canada.ca/) and under registry number 6224, a description of the following work, its site, and plans:

Blacks Bridge, which carries West Corner Drive over the Ausable River in North Middlesex, Ontario (see map in the notice attached below), is to be removed and replaced with a new 44 metre single-span bridge. The new bridge will have a total width of 9.1 metres, and will be constructed at the same location as the existing bridge. The design of the new bridge does not result in a permanent change to the navigational clearance at the crossing location.

Comments regarding the effect of this work on marine navigation can be sent through the Common Project Search site mentioned above, under the Comment section (search by the above referenced number). If you do not have access to the internet, please send your comments directly to the project team members listed below. Comments will be considered only if they are received not later than 30 calendar days after the publication of this notice.
Brent Visscher, P.Eng.
Project Manager
Dillon Consulting Limited
51 Breithaupt Street, Suite 200
Kitchener, Ontario, N2H 5G5
Tel: 519-571-9833 ext. 3107
Email: @email
Chris Traini, P.Eng.
County Engineer
Middlesex County
399 Ridout Street North
London, Ontario, N6A 2P1
Tel: 519-434-7321 ext. 2264
Email: @email
Information collected during the study will be used in accordance with the Freedom of Information and Protection of Privacy Act. With the exception of personal information, all comments will become part of the public record.
Posted on the County of Middlesex website (www.middlesex.ca) this 11th day of August, 2022