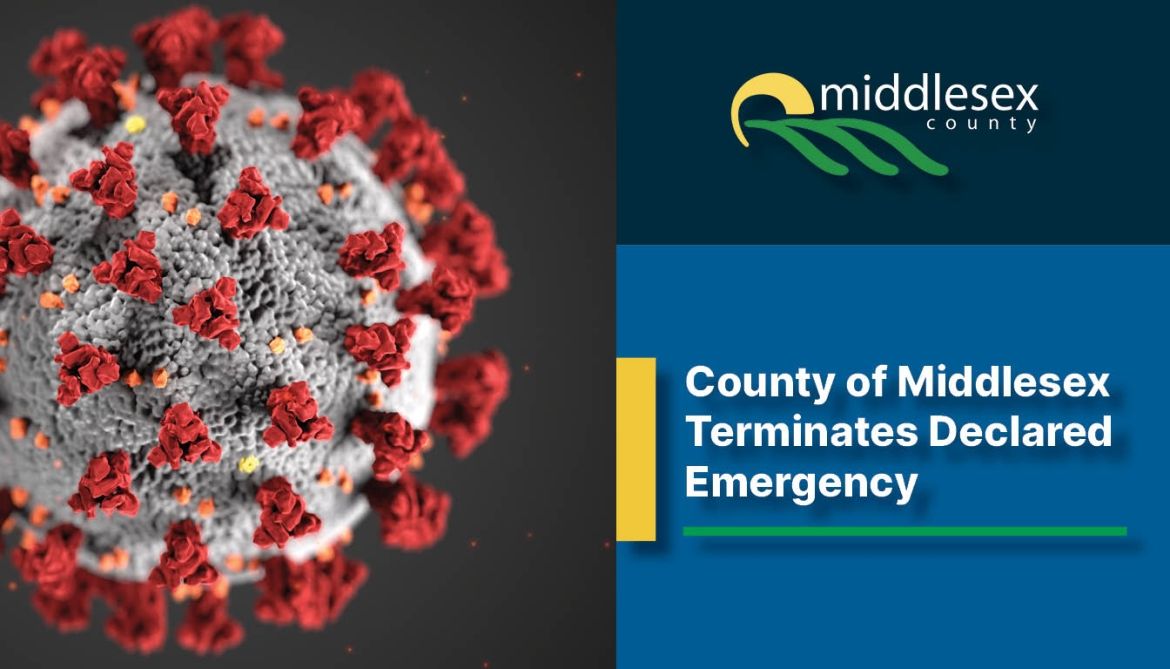 FOR IMMEDIATE RELEASE
County of Middlesex Terminates Declared Emergency
MIDDLESEX COUNTY on June 6, 2022 the County of Middlesex terminated the Emergency declared on March 17, 2020 in response to the COVID-19 pandemic.
The decision to end the Declared Emergency was led by Warden Alison Warwick and supported by County Council and staff.
As local and provincial restrictions continue to ease, residents of Middlesex County can expect services and operations to continue to adjust accordingly. The County will continue to monitor the latest recommendations of public health agencies.
QUOTE:
"We have come to a point where we can safely terminate the Declared Emergency. Although the pandemic is not over, this is a hopeful step forward towards recovery. As we enter this next phase of our pandemic response, we are committed to prioritizing the health and well-being of our staff and residents.
I want to extend my sincerest gratitude to all of the staff and volunteers at Middlesex County, especially the frontline workers at Middlesex-London Paramedic Service (MLPS), the staff at Strathmere Lodge and our Community Emergency Response Volunteer (CERV) team, for all of the incredible work they have done to keep our communities safe throughout the pandemic. I would also like to thank all County residents who followed public health guidelines; your cooperation, patience, and the sacrifices you have made to safeguard your communities are much appreciated. I hope we all continue to follow public health guidelines and take necessary precautions to keep our communities safe."
-Warden Alison Warwick
-30-
Middlesex County is an innovative, well-run organization offering high-value programs and services to the best community in which to live, visit, and do business in Southwestern Ontario. The County serves a vibrant, growing community of 75,000 people and offers a great place to call home, offering an exceptional lifestyle, a wide variety of local attractions, and a wonderful sense of community.
MEDIA CONTACT:
Middlesex County Media Relations
Legislative Services Division