Posted Date
July 20, 2022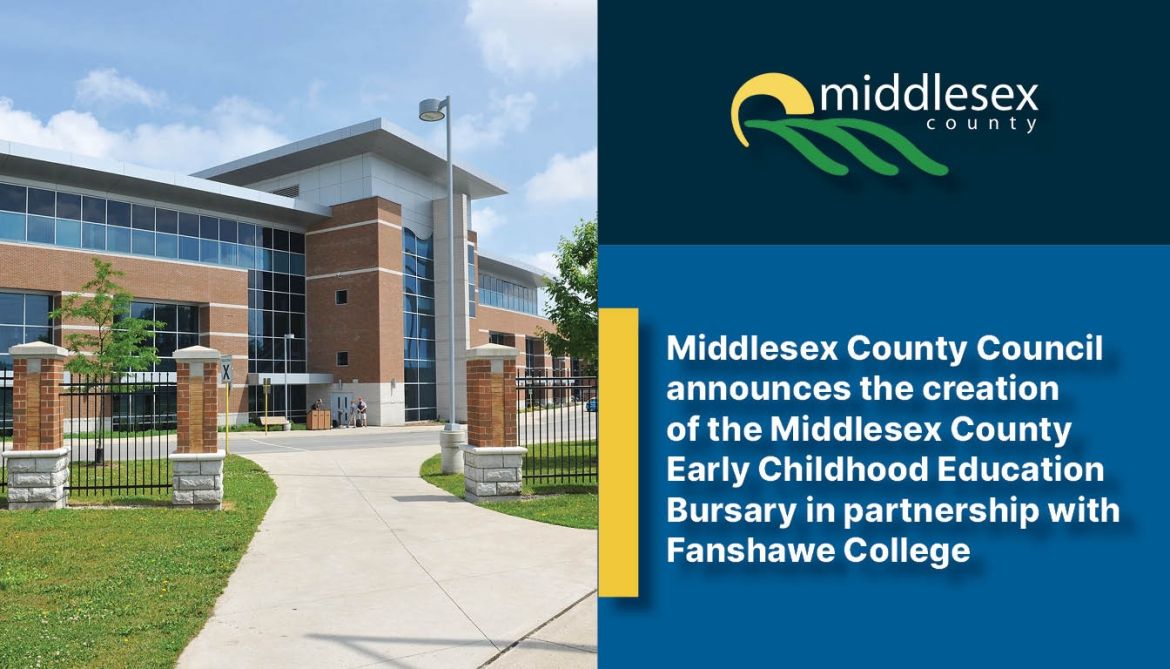 FOR IMMEDIATE RELEASE 
Middlesex County Council announces the creation of the Middlesex County Early Childhood Education Bursary in partnership with Fanshawe College 
MIDDLESEX COUNTY on July 19, 2022 Middlesex County Council approved an Agreement between the County of Middlesex and Fanshawe College for the creation of the Middlesex County Early Childhood Education Bursary. This bursary will be made available to Middlesex County residents applying to the Early Childhood Education program at Fanshawe College for the 2022-2023 school year.
Middlesex County recognizes the integral part Early Childhood Educators play in children's development, as well as the need for more ECEs across the province. This opportunity will promote this rewarding career path and help to strengthen and improve childcare services within Middlesex County.
The $80,000 bursary will be funded directly through the Child Care and Early Years Workforce Funding Agreement. It will include tuition and books and will be presented at every academic term for 10 students who meet the criteria until funds are completely expended. Students eligible for this bursary at the time of selection must:
Demonstrate financial need as determined by a budget submission
Be a full-time domestic student entering their first year of Fanshawe College's Early Childhood Education diploma program
Be in good academic standing
Self-identify as having a Middlesex County home address on their application
For more information, please visit Middlesex.ca
QUOTE:
"We are thrilled to be working with Fanshawe College to create this bursary for students pursuing a career in Early Childhood Education. Early Childhood Educators play a vital role in licenced childcare centres and are instrumental in shaping the early years of children and youth. It is our hope that this bursary will encourage County residents to pursue this rewarding career path, while helping to address the shortage of ECEs across the province."   -Warden Alison Warwick
-30-
Middlesex County is an innovative, well-run organization offering high-value programs and services to the best community in which to live, visit, and do business in Southwestern Ontario. The County serves a vibrant, growing community of 75,000 people and offers a great place to call home, offering an exceptional lifestyle, a wide variety of local attractions, and a wonderful sense of community.
MEDIA CONTACT:
Middlesex County Media Relations Legislative Services Division