Posted Date
October 13, 2022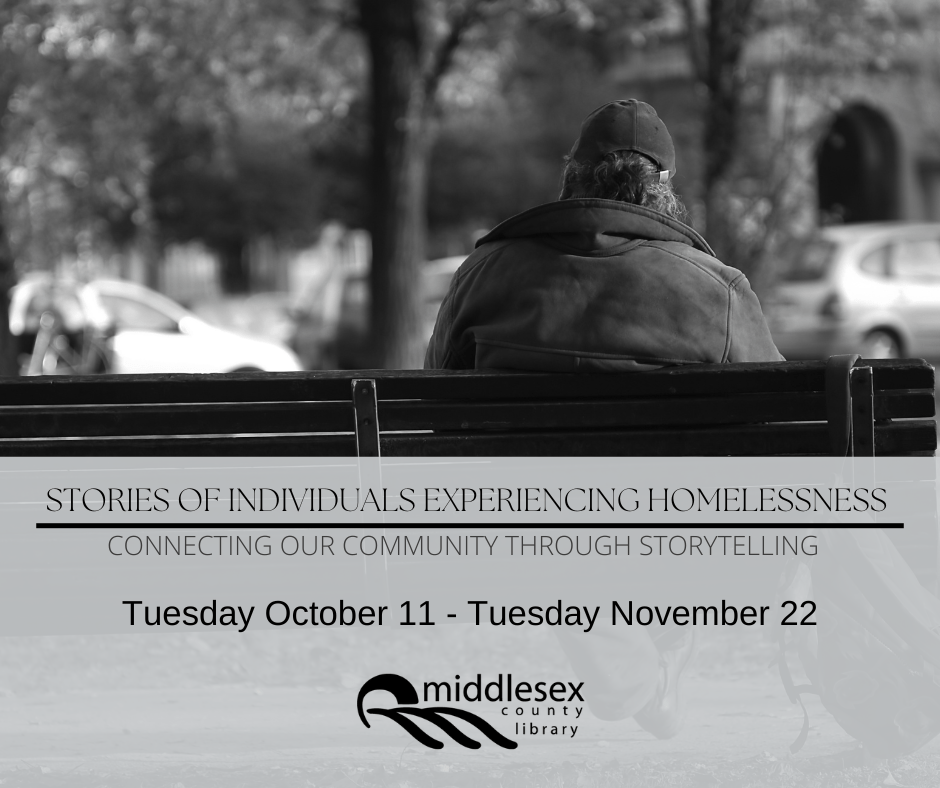 FOR IMMEDIATE RELEASE:
Through the summer of 2022, four local residents experiencing homelessness were invited to share their stories. Through this storytelling project, the Library plans to share stories that speak to the importance of equity, diversity, and inclusion. The first phase of this project centers on homelessness.
Starting October 11 through November 22, the Library will be sharing these stories through social media as well as featuring them in the Strathroy, Lucan, and Glencoe Library branches. These stories can also be found at the Library's website at Community Storytelling. The Library invites you to read these stories to become informed about the issues most individuals experiencing homelessness are facing today, especially around the increasing shortage of affordable housing, lack of employment, a living wage or the countless other reasons that put a person at risk. A lack of understanding can lead to blaming homelessness on the person, creating a dangerous cycle of misperception that leads to the inability to effectively address the root causes of homelessness.
Sharing these stories can help break down stereotypes, build empathy and inspire prosocial action.
Do you know someone experiencing or at risk of homelessness? For support around local programs and services, connect with our Community Navigator, Josh Smith, at 519-808-0588 or @email.  This service is open to Middlesex County residents. There is no cost. If you want to provide some support to local residents who are at risk or experiencing homelessness, consider donating to a local food or financial assistance program. For agencies in Middlesex County visit the link at Financial Food Housing Assistance in Middlesex County
QUOTE:

"These stories are a great way to see the larger issues surrounding homelessness within Middlesex County so that we can better understand the current crisis that's facing many of our residents. I invite you all to read these stories to learn more about these residents experiences with homelessness. I would like to thank our Libraries and Social Services staff for all of the tremendous work they do in providing resources and services to those in need."

-Alison Warwick
-30-
Middlesex County Library is a system of 15 libraries that provide free access to quality materials and resources to all residents of Middlesex County. Our libraries are staffed by over 70 dedicated, friendly, and helpful community members. Our mission statement is informing, enriching, and connecting Middlesex County with our mandate to provide a vibrant community space that encourages people to gain knowledge, build relationships, be creative and enhance their lives.
MEDIA CONTACT:
Middlesex County Media Relations Legislative Services Division