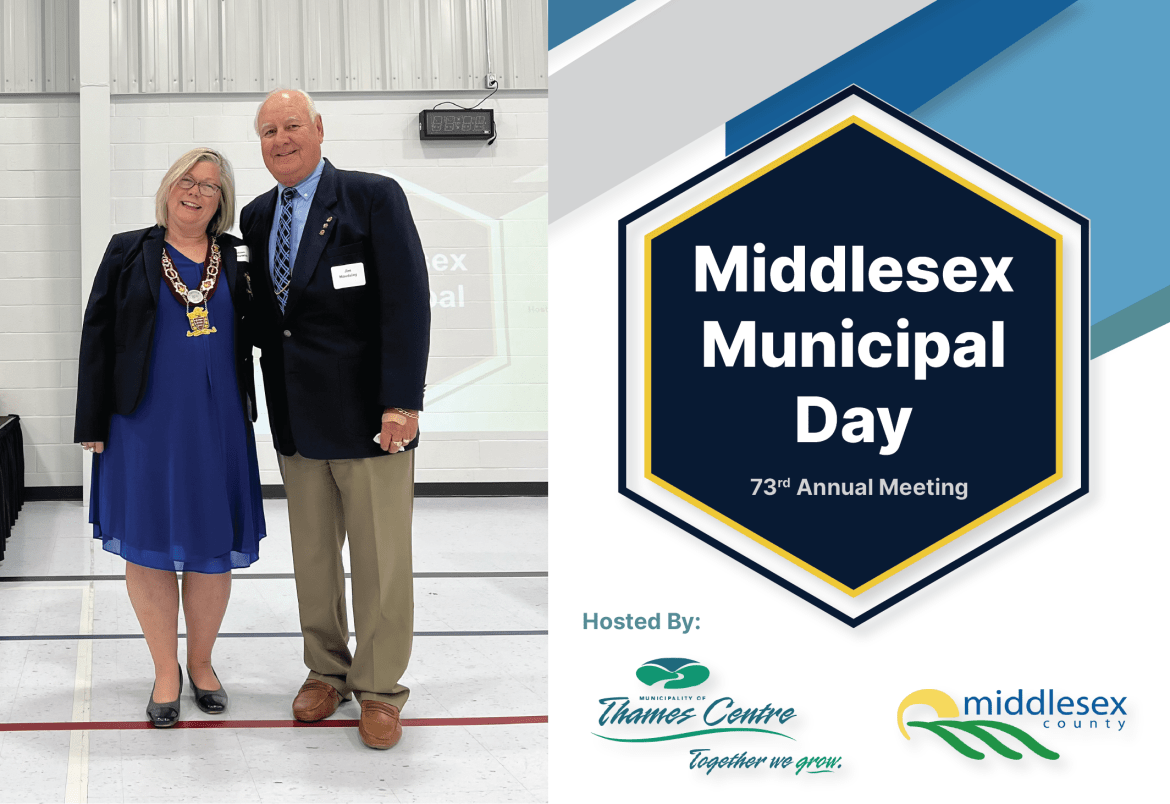 FOR IMMEDIATE RELEASE:
Middlesex Municipal Day 2022 hosted by Thames Centre
After a two-year hiatus, the Middlesex Municipal Association held its 73rd Annual Meeting in the new Thorndale Community Centre
MIDDLESEX COUNTY on May 12, 2022 the Municipality of Thames Centre hosted the 2022 Middlesex Municipal Day at the new Thorndale Lions Community Centre. The event saw over 90 delegates from the County of Middlesex, Local Municipalities, the Middlesex-London Health Unit, the Middlesex County Library Board, local Conservation Authorities, and various community partners.
At the event, delegates heard from leading Thames Centre businesses including Algonquin Bridge, Ideal Tile / ADS Pipe, and Armatec Survivability. Innovation, modernization and growth were some of the key messages received. Representatives from the Ontario Federation of Agriculture were also in attendance to offer some "Food for Thought" on issues facing Ontario's agricultural industry.
The meeting closed with a State of the Union address from Middlesex County Warden Alison Warwick who highlighted some of the important work undertaken by the County over the past two and a half years. Highlights included the Middlesex-London Paramedic Service's Mobile COVID-19 Vaccine Program; the adoption of the Middlesex County Strategic Plan; and plans for the decentralization of County Services. Warden Warwick also addressed the sale of the Middlesex County Administration Building in 2019 and the sale of vacant lands near Strathmere Lodge in 2021. Proceeds from these sales, totaling approximately $36 million dollars, helped to stabilize Middlesex County's tax rate in 2022 and will continue to help fund pandemic relief and post pandemic recovery programs well into the future.
Middlesex Municipal Day 2022 was sponsored by Spriet Associates, Siskinds the Law Firm, McFarlan Rowlands, and Intact Public Entities.
The Municipality of North Middlesex will host Middlesex Municipal Day 2023.
QUOTE:
"Middlesex Municipal Day gives us an opportunity to showcase some of Middlesex County's leading businesses and community organizations. It also allows us to acknowledge and celebrate the positive accomplishments of member organizations. It was a privilege to hear from some of Thames Centre's most innovative businesses, as well as our friends at the Ontario Federation of Agriculture."
-Warden Alison Warwick
"After postponing this event for the past two years, it was wonderful to meet again in person at the new Thorndale Lions Community Centre. I would like to thank all of our speakers and sponsors for making the 2022 Middlesex Municipal Day an exciting and informative event. It is businesses and organizations like these that make Thames Centre and Middlesex County a great place to work and live."
-Jim Maudsley, President of the Middlesex Municipal Association
-30-
Middlesex County is an innovative, well-run organization offering high-value programs and services to the best community in which to live, visit, and do business in Southwestern Ontario. The County serves a vibrant, growing community of 75,000 people and offers a great place to call home, offering an exceptional lifestyle, a wide variety of local attractions, and a wonderful sense of community.
MEDIA CONTACT:
Middlesex County Media Relations Legislative Services Division